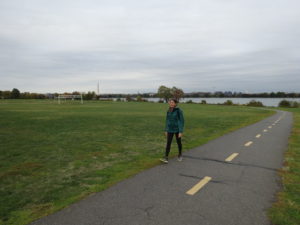 As I sat in gridlock on the George Washington Memorial Parkway during my 45-minute morning commute into Washington, I looked out the window. There was a woman my age running along the Mount Vernon Trail. I longed to be outdoors — and vertical.
That moment last fall, when I was 42, marked the beginning of a change in my life that would give me more energy and better fitness.
To continue reading my article in The Washington Post about being a pedestrian commuter, click here.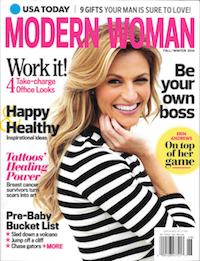 Write about the shoes you wore. 
I was in a writing workshop, and that was our warm-up assignment. A stream of consciousness exercise.
"Shoes are fascinating," the teacher said.
Shoes? Fascinating? Not to me, I thought. Unlike most women, I'm not crazy about shoes. Why shove my feet (the foundation of my body) into pointy-toed, 4-inch, ciggy-heel stilettos, known to cause bunions, hammertoes, and nerve pain? I feel similarly about platforms and peep toes, which are linked to other painful ailments. I scribbled all this down in my notebook … and kept writing. On second thought, maybe I did have something to say about shoes. My essay "Shoe Love" is running in the back page column of Modern Woman, on newsstands now.
* * *
Speaking of shoes, in her book Still Writing (a wonderful memoir on craft), Dani Shapiro suggests shoes as a possible way to begin a story. Shapiro writes: "Just the way we put one foot in front of the other as we get out of bed, the way we brush our teeth, splash water on our faces, feed our animals if we have animals, and our children if we have them, measure the coffee, put on the kettle, we need to approach our writing one step at a time. It's impossible to evoke an entire world at the start. But it is possible to describe a crack in the sidewalk, the scuffed heel of a shoe. And that sidewalk crack or scuffed heel can be the point of entry, like a pinhole of light, to a story, a character, a universe."
Well said. Now go ahead and pull out a pencil and paper and get to work. Write about the shoes you wore.
Psalm 19 says, "The heavens declare the glory of God. The skies display His craftsmanship. Day after day they pour forth speech; night after night they make Him known. They speak without a sound or word; their voice is never heard. Yet their message has gone throughout the earth, and their words to all the world."
They speak without a sound or word.
Love that.
Last summer, Ron and I visited Moab, Utah. We spent two days hiking in Arches National Park where we scrambled over boulders deep in the red rock. I was awe-struck by the dramatic landscape. I've wanted to write about our trip ever since, but I was without words. What is there to say? Creation speaks for itself. So maybe that's it. Maybe the best thing I can say about Moab is simply this: If you ever get the chance . . . GO!
If pigs are given space, they'll sleep in a clean area, but if they're confined, they'll sleep in their poo.
"At times, humans are like a pig in poo," my friend Lindsay mused.
"How so?" I asked.
"We feel warm and cozy in the muck. We know it would be better for us if we left the muck, cleaned up, and moved to a healthier place. But change is hard . . .  and scary. It's easy to stay stuck in the poo. We tell ourselves the same story over and over, and that sad tale becomes the narrative of our lives."
I've been thinking about the pig in poo all week. What areas of my life need to be cleaned up? What mental and emotional confines have I locked myself into? What narrative have I made myself believe? Is it time to make a change? I really like the pig in poo story. So I thought I'd share it.
If you could once make up your mind in the fear of
God never to undertake more work of any sort than
you can carry on calmly, quietly, without hurry or flurry,
and the instant you feel yourself growing nervous
and like one out of breath, would stop and take breath,
you would find this simple common-sense rule doing for you
what no prayers or tears could ever accomplish.
–Elizabeth Prentiss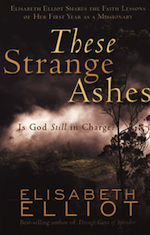 Do you ever reread books? There are three or four books I reread over and over from start to finish, but typically I only reread certain passages from my favorite books, or flip through the pages and reread random sections, not the entire thing again. A book lover I met a few weeks ago suggested that I reread more books. She said, "Don't be surprised if your observations and feelings about the work are different." So maybe I'll pick an ol' favorite off my bookshelf and give it a whirl.
The other day I asked a group of writers to each share one of their favorite books. One woman said, "Whatever book I'm reading at the moment." How true! One week this year I would've said Against Wind & Tide. Another week, Wild. This week it's These Strange Ashes.
These Strange Ashes is a woman's personal account of moving to the jungles of Ecuador in 1952 to do missionary work. No refrigerators. No faucets. No toilets. A wood frame with no mat for a bed. Simple medical care. And talk about "whole foods" – no organic pizza or low-mercury canned tuna, but pineapple, eggs, and plantains. Her description of "housekeeping" in the jungle is one of my favorite chapters. I also found it fascinating to read about how she learned an unwritten language and set about the task of coming up with an alphabet in order to fashion the language into written form so that the Bible could be translated. She had to find an "informant" – a native who was willing to work with her (she didn't have much luck when she offered to pay the people from the jungle since the people from the jungle didn't have much need for money). Eventually she found a non-native who could speak the language, and she studied how he moved his mouth when he said the words. Then she had to puzzle through what was a prefix, a suffix, etc. And how to pick out the single words from a phrase. And figure out where the syllables fell. Anyway, I'm about halfway through and I am off to read more…
What is your favorite book (at the moment)?
Do you ever reread books?
As much as I love memoir–and I do love it–sometimes I'm ready for the book to end. Memoir is hard to wrap up because it's life. And even when a writer shares a lesson she's learned (or unlearned), the struggle she's writing about usually isn't over. The wrestling match with oneself might mature, but it often continues. I like the fact that memoir can't be bottled up in a container, and I'll stick with a book I enjoy to the very last word (and by that, I mean to the bottom of the acknowledgments). But I can get antsy. Not this book. Instead of sliding from great to good, This Life Is In Your Hands went from good to great. It's the author's story of growing up on a homestead in Maine. Because she was so young and her memory incomplete, she worked hard to discover the missing pieces through research, interviews, and diaries. I enjoyed this article about her writing process. What books are you reading over July 4? I'm swinging by the bookstore tomorrow and hope I find another gem.