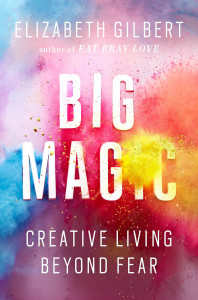 When my book club picked this book I was a tad skeptical. I thought I knew what to expect: an entertaining, inspiring read with a feel-good message. A little too "perfect" for my taste. Or worse, an author who came across as perfectly imperfect. I wasn't sure I'd like it—well, I loved it. Turns out, the book was funny (I wasn't expecting humor); fresh (a new take on how to approach creative ideas); thought-provoking (how to handle frustration and the creative process); and eye-opening (people "murder their creativity by demanding their art pay the bills," the author says). Take your art seriously, she adds, but don't take it seriously. By the end, I was able to identify work that I'm ready to send into the world instead of tinkering with it for the millionth time. I was able to let go of stale ideas I'd been clinging to and make space for the ideas that are alive. For more good books and thoughts on nurturing your creative spirit, consider joining Roughly Speaking, my newsletter.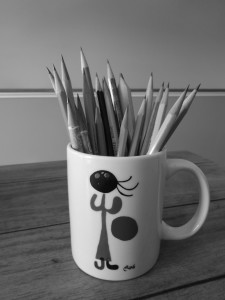 In a small way, my law career and writing career have merged. Since January, I've been writing a newsletter for a nonprofit legal service.
To gain a better idea of how the legal clinics run, I headed to the District one Saturday morning to observe. I showed up at the wrong time, 15 minutes early, so I set off in search of a coffeehouse. Within two blocks I stumbled upon on outdoor Dunkin' Donuts kiosk. Good enough. I placed my order for a coffee and stepped aside. That's when I noticed a woman who looked very, very familiar. She was walking a Pug. I chased her down the street as I tried not to spill my coffee. Sure enough she was a paralegal I used to work with at a law firm in London almost 20 years ago. She now works for the U.S. Department of State. Her Pug's name is Daisy.
Anyway, the encounter got me thinking about my time in London right out of college. I attended All Souls, Langham Place, a church at the north end of Regent Street. But just because I attended church didn't mean I was present at church. At that point in my life I went to church because I believed it was the "right" thing to do. I completely spaced out during the sermons. I was aware that the rector emeritus was a well-known preacher and author (John Stott), but other than the amusing way he pronounced words like vitamin and advertisement, I couldn't tell you a thing he said behind the lectern.
When my faith finally took hold (over a decade later), I began to listen to Stott's sermons online. I also read his books. I couldn't get enough of him. Unfortunately, he died in 2011, so I will never again have the chance to sit under his live preaching. I've kicked myself in the butt countless times for being there without being there. Ugh!
In last month's newsletter, I shared this story:
In one of his sermons, writer and preacher John Stott told a true story about a woman who worked with her hands. She was an American doctor who lived in London and specialized in chiropractic medicine and physiology. On Sundays, she attended All Souls, Langham Place. Once a year, without fail, Stott said, the woman would ask the pastors of the church to bless her hands. Stott (or one of the other pastors) would kneel with her and present her hands to God, asking God to enable her to do His work and healing through her hands in service to Him.
I love that. In the newsletter, I went on to write about the prayer and a lawyer's hands. Yet I can't stop thinking about how writers need the prayer, too … especially writers. After all, our hands are the tools we use for our craft, whether typing on the computer or composing on paper with pens and pencils. Our hands give voice to what we want to say. They help us communicate our wise (or foolish) thoughts on the page. How does a writer have healing hands? One way is finding that balance between truth and grace.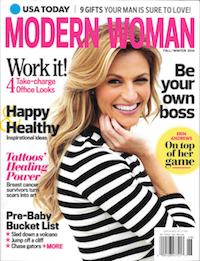 Write about the shoes you wore. 
I was in a writing workshop, and that was our warm-up assignment. A stream of consciousness exercise.
"Shoes are fascinating," the teacher said.
Shoes? Fascinating? Not to me, I thought. Unlike most women, I'm not crazy about shoes. Why shove my feet (the foundation of my body) into pointy-toed, 4-inch, ciggy-heel stilettos, known to cause bunions, hammertoes, and nerve pain? I feel similarly about platforms and peep toes, which are linked to other painful ailments. I scribbled all this down in my notebook … and kept writing. On second thought, maybe I did have something to say about shoes. My essay "Shoe Love" is running in the back page column of Modern Woman, on newsstands now.
* * *
Speaking of shoes, in her book Still Writing (a wonderful memoir on craft), Dani Shapiro suggests shoes as a possible way to begin a story. Shapiro writes: "Just the way we put one foot in front of the other as we get out of bed, the way we brush our teeth, splash water on our faces, feed our animals if we have animals, and our children if we have them, measure the coffee, put on the kettle, we need to approach our writing one step at a time. It's impossible to evoke an entire world at the start. But it is possible to describe a crack in the sidewalk, the scuffed heel of a shoe. And that sidewalk crack or scuffed heel can be the point of entry, like a pinhole of light, to a story, a character, a universe."
Well said. Now go ahead and pull out a pencil and paper and get to work. Write about the shoes you wore.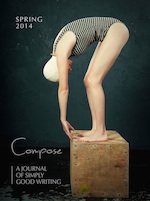 In the spring issue of Compose, a story about the day I met writer Abigail Thomas:
Abigail Thomas wrote about her socks. Of the books of hers I've read—all of which I adore—that's the scene that sticks out most. She sat on the ground in a bookstore and changed out a pair of socks that didn't match her new shoes. The socks were black with red peppers. Her writing captures ordinary life moments with such beauty and emotion that I'm compelled to keep turning pages.
A couple years ago, I traveled to Thomas' hometown, Woodstock, New York, for a magazine assignment. I was writing about infertility (and going through it myself), and was attending a fertile heart workshop. Before I left, I typed out an email to Abigail introducing myself. I told her how much I enjoyed her writing style, and asked if she would meet me for coffee Monday morning. Then I agonized over whether to hit "send."
I'm shy.
I clam up around strangers.
I'm the type that skips parties in favor of staying home to read books.
When I make phone calls, my heart pounds, and I pray for voicemail.
A doctor, a therapist, a portfolio manager, and a writer walked into a bar.
(This is a true story, not a joke.)
The doctor shared compelling tales about life in the ER. Resuscitations and stomach pumpings. (By the way, it's best to go to the emergency room at 7:05 a.m. or 7:05 p.m., right after the shift change when doctors are fresh. So next time you have appendicitis or cut off your finger, try to time it right.) The therapist had lots of great advice based on years of working with nutty patients. The portfolio manager had important (if not exactly thrilling) insights on investments. Finally, three heads turned toward the writer. They were dying to know about her day. What was it like to work on a book? On a magazine story?
I gulped.
The writer was me.
Being a writer sounds so romantic. I wanted to tell them my day was as they likely imagined: I went to a hip coffeehouse and pecka-pecka-pecka-pecked on my keyboard; words were flowing; my computer was smoking; I sent the piece off to an editor and it was accepted on the spot; look for it in next month's issue of The New Yorker!
In reality, being a writer is not so glamorous. It can be infuriating, depressing, agonizing, and very, very slow. Coffeehouses are too loud. I cleared my throat and tried to explain a typical day: "Well, I sat at my desk, wrangled with sentences on the page for two hours, got up, went for a run, sat down, and wrote more pages. Then I ate a sandwich."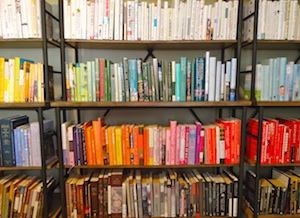 It's not unusual to work on something for weeks only to later scrap the material. I go through dozens of wrong drafts before I make my way to a right draft. It takes months, sometimes years, for a piece to make it from my laptop to print — if it makes it at all.
I have stiff hips and a permanent knot in my left shoulder. And my neck — I'm beginning to look like a flamingo. I love what I do (mostly). It's all part of the messy creative process. To me, it is exciting. Then again, I also find organizing my bookshelf to be a rip-roaring good time. I like to organize books by color.
And there you have it: a day in the life of a writer.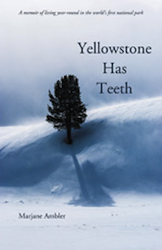 Speaking of national parks, I'm reading Yellowstone Has Teeth. It's about a couple who lived year-round in Yellowstone for a decade. The winters were brutal and isolating. This January, I got a teeny tiny taste of that kind of life when I spent a few weeks in the wilderness. It was cold and barren. Lonely. No bears or birds to watch. I plowed through Seasons 1, 2, and 3 of Downton Abbey. Ate a lot of soup. Skied (alpine and nordic). But most of the time, I hunkered down and worked on my book. Over the years, I've had to learn to write regardless of my schedule — crammed or empty. I do think it helps to separate and concentrate, although writing is hard either way. And no matter whether I'm in a public coffee house, at home, or secluded in the wilderness, it's solitary work. The other day, I read an article about isolation written by a mother. She has four kids, yet feels removed and cut off. It was a good reminder that isolation isn't always so obvious. And that it lurks in all sorts of lifestyles and vocations. Classes and workshops are a great way for writers to join together. I plan to take at least one class this spring and teach a couple this summer. After this polar vortex winter, it'll be nice to emerge and connect.
I often walk before I write. A walk helps me work through places on the page where I'm stuck. But the other day, the opposite happened. It was stunning outside. I was in the middle of nowhere — among nothing but acres and acres of wilderness and hushed mounds of white snow. Pine trees stretched heavenward. Mountains bulged. The air was crisp, and I felt the warm sun on my face. Back at my desk, I was without words.
Psalm 19 says, "The heavens declare the glory of God. The skies display His craftsmanship. Day after day they pour forth speech; night after night they make Him known. They speak without a sound or word; their voice is never heard. Yet their message has gone throughout the earth, and their words to all the world."
They speak without a sound or word.
Love that.
Last summer, Ron and I visited Moab, Utah. We spent two days hiking in Arches National Park where we scrambled over boulders deep in the red rock. Again, I was awe-struck by the dramatic landscape. I've wanted to write about our trip ever since, but like my recent walk in in the wilderness, I thought, what is there to say? Creation speaks for itself. So maybe that's it. Maybe the best thing I can say about Moab is simply this: If you ever get the chance . . . GO!