I hit a wall.
I'm hard at work on a book, and the other day I told Ron: "I might have just wasted the last three years of my life."
At times it feels like I'll never reach the end.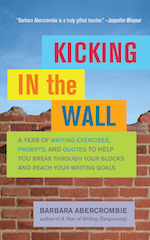 My writing instructor, Barbara Abercrombie, has advice for such times. Her new book, Kicking in the Wall (a supplement to A Year of Writing Dangerously), says to "keep your pen moving" and provides 365 days' worth of one-line prompts and exercises to "help you get into your stories."
Another dear mentor (albeit one I've never met) wrote over 20 books. She started publishing in the days before blogs, so she'd snail mail a paper newsletter to her subscribers. In those newsletters she asked for prayers. Once she said: "Pray, too, for help as I try to write the book. If I try to do it alone, I shall most certainly fail. It is divine help . . . that I need."
She admitted she had no special claim to anybody's prayers, but that we all need others to pray for us.
Love that.
So dear readers and writers, pray for me as I write this book. That the words on the page are words I ought to write. And if my words are in error, that God directs me. And I will pray that God gives you the endurance to run whatever race is set before you (Hebrews 12:1-2).
Okay, time to kick in that wall.
Let's begin on our knees.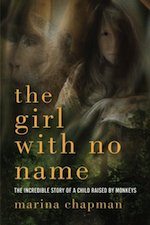 Awful title, but wonderful book. It's about a girl living in South America who was abducted and then abandoned in a forest. She learned to survive by imitating the actions of capuchin monkeys (she ate what they ate, climbed the same trees, etc.). The ghostwriter did an amazing job–such vivid imagery of life in the jungle from the perspective of a five-year-old girl.
Here's the opening: "There was something about pea pods that mesmerized me. I didn't know why, but there was something magical about the way the bloated pods burst so cleanly in my hand when I squeezed them. So the corner of the allotment where the peas grew was special, and I would spend hours there, engrossed in my own little world."
I was hooked. Maybe because I love to split pea pods, too.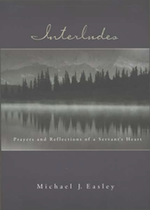 This book was written by our teaching pastor in Israel.
Prayers that read like poems.
I'm reading them slowly, one a day. Prayer is hard (at least, it is for me). It's especially hard to move away from rattling off a list of things I want. It's hard to have faith that prayer accomplishes much. It hard to keep still and know that He is God (Psalm 46:10).
A few months ago I tried to talk one of the pastors at our church into letting me run a donation-based book table or lending library, but the idea got swept away in the midst of other stuff…I need to circle back. This is so going to be a selection when the book table is a go.
What have you read lately? Anything good?
"I had no idea how much I love limestone," I said to Ron over and over as we walked around Israel.
"Me, too," he said.
"I love its look, its texture, and its smell," I said.
The sandstone color lit up the land.
As we toured the country there were certain places I thought I'd feel indifferent about, but it turned out I absolutely loved. Qumran was one of those places. It's where the Dead Sea Scrolls were found. Toward the end of the second century B.C. and during the first century A.D., the Essenes, a Jewish sect, lived and studied at the site. In addition to composing non-biblical writings (prayers, commentaries, and hymns), the Essene scribes copied down Hebrew Scripture in a special room called the Scriptorium. The scribes were so accurate and precise—down to every last jot and tittle—that a single mistake meant the page/scroll was discarded and the scribe started his work over. In 1947, Bedouin shepherds discovered seven of the ancient scrolls. Archaeologists then excavated the area and found thousands of manuscript fragments. The scrolls had been so well preserved because the Essenes hid them inside pottery jars before they placed the jars in arid limestone caves (the "library"). The Dead Sea Scrolls include portions or complete copies of every book of the Hebrew Bible except Esther. It was so neat to see a handful of the scrolls on display—they're the oldest known copies of biblical texts.
It's hard to believe we've been back home for three weeks now. In much of the time since, I've been squirreled away at the Colorado cabin, writing, writing, writing. I now call my writing area the Scriptorium. The word means "place of writing."
It's that time again. My updated guide to Personal Essay Markets is online over at mediabistro. Thank you to all the wonderful editors who gave me the inside scoop on topics, length, pay, submission etiquette, and advice on how to break in. And to the many, many, many, many, many, many, many, many, many, many, many writers who pointed me in the direction of new markets to include in the guide—thank  you! I'm so grateful.
Want to break into personal essay writing? I love the way A River Runs Through It demonstrates the writing process. In the movie, Norman is home-schooled by his father, the Reverend Maclean. When Norman hands his father an essay, the Reverend hands it back and instructs, "Half as long." When Norman turns in the revision, the Reverend says, "Again. Half as long." When Norman turns in the third draft, the Reverend says, "Good. Now throw it away."
Let me suggest a slightly different order. Pick a target market and read at least a half dozen examples. Write the first draft. Don't revise. Just get the words on the page. Done? Throw that away. Pull up a new Word doc and rewrite your essay. You can revise the second draft. Show it to a few people (other writers) and give it a hard self-edit based on their feedback. Resist the urge to send it off. File it away instead. After a week or two, reread it with fresh eyes and give it a good polish. Now you can submit.
All writers deal with rejection. Don't be discouraged. Take my latest essay as an example. As many of you know, I struggled with our move to the D.C. area. My piece is about how paddleboarding helped me connect to the region. My early draft didn't have enough substance. It was rejected. I reworked it. It was rejected again. I reworked it again. It found the right home. Yours will, too.
~~~
"Whenever I kvetched about being stuck or about having nothing original to say, [my editor] would reassure me with the words, 'You're sitting on your brains. Go take a walk.' So I walked, and it helped."
-Anita Diamant, Pitching My Tent
If you could once make up your mind in the fear of
God never to undertake more work of any sort than
you can carry on calmly, quietly, without hurry or flurry,
and the instant you feel yourself growing nervous
and like one out of breath, would stop and take breath,
you would find this simple common-sense rule doing for you
what no prayers or tears could ever accomplish.
–Elizabeth Prentiss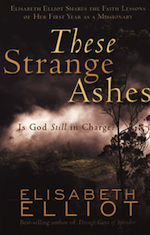 Do you ever reread books? There are three or four books I reread over and over from start to finish, but typically I only reread certain passages from my favorite books, or flip through the pages and reread random sections, not the entire thing again. A book lover I met a few weeks ago suggested that I reread more books. She said, "Don't be surprised if your observations and feelings about the work are different." So maybe I'll pick an ol' favorite off my bookshelf and give it a whirl.
The other day I asked a group of writers to each share one of their favorite books. One woman said, "Whatever book I'm reading at the moment." How true! One week this year I would've said Against Wind & Tide. Another week, Wild. This week it's These Strange Ashes.
These Strange Ashes is a woman's personal account of moving to the jungles of Ecuador in 1952 to do missionary work. No refrigerators. No faucets. No toilets. A wood frame with no mat for a bed. Simple medical care. And talk about "whole foods" – no organic pizza or low-mercury canned tuna, but pineapple, eggs, and plantains. Her description of "housekeeping" in the jungle is one of my favorite chapters. I also found it fascinating to read about how she learned an unwritten language and set about the task of coming up with an alphabet in order to fashion the language into written form so that the Bible could be translated. She had to find an "informant" – a native who was willing to work with her (she didn't have much luck when she offered to pay the people from the jungle since the people from the jungle didn't have much need for money). Eventually she found a non-native who could speak the language, and she studied how he moved his mouth when he said the words. Then she had to puzzle through what was a prefix, a suffix, etc. And how to pick out the single words from a phrase. And figure out where the syllables fell. Anyway, I'm about halfway through and I am off to read more…
What is your favorite book (at the moment)?
Do you ever reread books?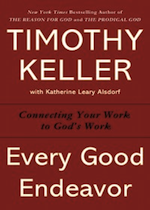 I took a bubble bath the other day. While I soaked, I cracked open the book Every Good Endeavor by Timothy Keller with Katherine Leary Alsdorf. It's about vocation. Whether writing, law, medicine, motherhood/housekeeping, carpentry, finance, or whatever – how do you find meaning in your work? What is God's plan for work and what role does he play? How to stay true to your values but also advance in your field? What to do when you feel like you're not achieving your highest aspirations? That kind of stuff. Exactly the issues I have wrestled with lately and, I assume, issues many of you wrestle with, too.
A quick story about that:
I'm writing a loooong personal narrative. I've put a ton of time into it, and some days I'm certain I will finish it and publish it, while other days I think, "This stinks. I'm a terrible writer. Will I ever complete it?" Those days are awful because I know how many hours and how much effort I have devoted to it, and I can't help but wonder if all my work is a waste of time. Should I be doing something else? Am I eating the bread of idleness?*
Anyway, the other day I ordered tickets to Handel's Messiah. It dawned on me that Handel must've spent eons writing Messiah. It's such an incredibly rich and sacred oratorio . . . gosh, he had to have hit a point where he never thought he'd finish it, right? I got the brilliant idea to do a bit a research and find out exactly how long it took Handel to compose it. I figured it would inspire me and help me feel better about my slow writing pace. Well, guess what? It took Handel 24 days to compose Messiah. According to one blurb I read, he was bipolar. In one of his manic phases, he locked himself in his study, refused most food and baths, and banged out his masterpiece.
Oh.
So a little depression.
And a bubble bath.
And Tim Keller's book.
And that's when I stumbled across a story about J.R.R. Tolkien. The introduction to Keller's book talks about how Tolkien wasn't sure he'd ever finish The Lord of the Rings. Tolkien feared his vision would never be realized and that he'd never achieve what he had sought to accomplish. He did finish. It took him 12 years . . . that is, 12 years to complete the first draft. After that, "there was a tremendous lot of revision," Tolkien said.
I'm not sure which story is more depressing. But then again, I'm not trying to be Handel or Tolkien. I'm me, trying to finding my way. You will find your way, too. Let's press on . . .
I'll add here that I'm teaching a one-day workshop at The Writer's Center on January 5: Writing: A New Year's Resolution. The workshop is designed to give your writing practice a boost (or start one from scratch) and help you establish a more fruitful craft. Given the above confession, I can't promise to make you a super fast writer, but if you need help getting your butt in the chair each day, there will be lots of good ideas, discussion, inspiration (and yes, actual writing time!). Hope to see you there! Sign up here >>
*Proverbs 31
~~~
"Just because you cannot realize your highest aspirations in work does not mean you have chosen the wrongly, or are not called to your profession, or that you should spend your life looking for the perfect career that is devoid of frustration. That would be a fruitless search for anyone. You should expect to be regularly frustrated in your work even though you may be in exactly the right vocation."
-Tim Keller, Every Good Endeavor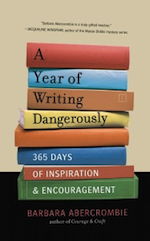 A few months ago, I bought a This Book Belongs To: _____ stamp. It's a wise owl perched next to an open book with a pair of spectacles resting on the pages. I spent hours one afternoon at the Colorado cabin stamping the first page of all my books in the loft. I picked up my pen, poised to write Jenny in the blank space, and . . . paused. I was suddenly overcome with the urge to write You instead. But then I paused again. Was I going to give my books away to anyone who might want, need, or simply come across them? Yes. No. Yes. No. I wish I was a more generous person. I don't want to be clingy and possessive of material goods that moths and rust destroy.* Then again, I appreciate the value of my personal library. I study my books and refer back to them all the time when I work. They're part of my files. Eventually I'll make the call, but for now I have a humongous stack of books that say, This Book Belongs To blank. (*Matthew 6:19)
In other news:
Open Air: I'm a biker. As in cyclist, not Harley-Davidson chick. It happened by accident. I didn't have a car for two weeks, so instead of renting from Enterprise, I went to the bike store, bought a helmet and a lock, and began pedaling EVERYWHERE. It took 40 minutes (the length of my first ride) to get over my fear of cruising inches away from street traffic. Well, sort of. At least once a ride I have the horrible thought of mangled limbs. Anyway, I discovered a whole new culture. When I zip up to a bike rack, another biker will say, "How was your ride?" Or, "Was it a long ride?" Or the person will launch into a story about the last time he or she crashed. I've always wanted a convertible, and wouldn't you know? I've had one all along.
Hot Off the Press: Modern Woman, a magazine published by USA Today, includes my piece on minimally processed foods. On newsstands Oct. 8.
On the Bookshelf:  A Year of Writing Dangerously by Barbara Abercrombie. To officially open my work day, I have been reading one entry each morning from this book. I absolutely love this practice. It's uncanny how often the entry of the day fits my writing struggles. One morning I woke up with a tight chest, worried to death about a certain piece I was drafting. The topic in Barbara's book that day? Anxiety. (And that morning's scripture reading from the Sermon on the Mount was on anxiety, too.) Another day, as I ate breakfast, I mulled over a list of people I could ask to read a few pages for me. When I went to my desk to work, the day's entry was on finding the right readers and choosing your posse carefully.
That's all for now. See you next time. Or as a cyclist would say, "Have a nice ride!"
~~~
"I think that a "real writer" is simply a person who keeps writing."
-Barbara Abercrombie, A Year of Writing Dangerously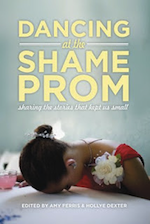 It's still muggy in D.C., but with autumn around the corner the weather will break any day. Speaking of breaks, Roughly Speaking has been on summer break. Here's what's new:
Leo Went Camping: To escape the humidity, I took a trip to pet sit my friend's dog Leo. Leo lives in Los Angeles, and he loves California and the outdoors as much as I do. He has his own dog door, but his owners asked me to bring him inside after dark, so I locked up the dog door around 10pm. One morning I heard Leo scratching go out…and I realized he was in the yard…I'd left him there all night. He was scratching to come in. I felt so bad, but Leo didn't mind. When I told Ron the story over the phone, Ron said, "Leo went camping."
On the Bookshelf: This summer, in honor of Nora Ephron, I read Heartburn. I tried to read it on my Kindle, but alas, I gave up somewhere in the middle of the sample pages and ordered the paperback. So I still haven't actually read a book on my Kindle; however, I have fallen in love with my e-Reader anyway. It's perfect for movies on airplanes (I watched Heartburn after I finished the book). Speaking of books, I've started a list of independent bookstores under the Links section on my blog. Each time I visit one in person, I'm going to add it. I'm looking forward checking out Parnassus the next time I go to Nashville. Does your town have an indie bookstore?
Hot Off the Press: Dancing at the Shame Prom, a book of essays edited by Amy Ferris and Hollye Dexter, is out this month. My piece in this collection is about a difficult decision my husband and I made to turn down an adoption. After this assignment, I realized I could write on the topic(s) of shame and fear for the rest of my life and never run out of material.
The Move: I can't believe how much work the move has been. We love the new place. I debated whether to put my writing room downstairs in the "office" or upstairs in the "loft." (A fun dilemma…I remember when I first became a writer my only option was to push a desk against the wall in our cramped apartment.) Anyway, I was tempted to take the loft. It has better light. "And I'm an 'up' person," I said to anyone who would listen. But I picked the downstairs room after my hubs and parents (who helped us move in) suggested that would be the better fit because it was, after all, designed to be a home office. Well, a few weeks later, as I chatted with a woman about the vision I had for my writing space, she said, "You seem like an 'up' person." Well said! I'm making the swap.
~ ~ ~
"There is something unique about books. Our favorite books become very precious to us and we even develop with them an almost living and affectionate relationship. … So let me urge you to keep reading, and encourage your relatives and friends to do the same. For this is a much neglected means of grace."
–John Stott, The Radical Disciple