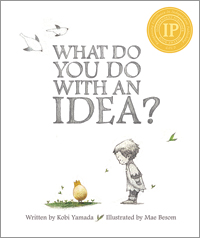 Do you have an idea for a children's book? Maybe you've thought: I'll write it someday. Well, make that "someday" today! Join us for Oh, The Places You Can Go!, a retreat with children's book writing coach Esther Hershenhorn.
Wherever you are with your work, you are welcome.
When: April 21-23, 2017. We'll open with a meet-and-greet reception at 4pm Friday afternoon and end by noon Sunday.
Where: Haley Farm Inn and Retreat Center, a gorgeous spa and retreat center in the serene region of Western Maryland, just minutes away from Deep Creek Lake (3 hours from Washington, D.C.). Need a carpool from Reagan National Airport? Let us know!
Instructor and Description: Esther Hershenhorn will introduce you to the Children's Book World and offer rules of the road to make navigating that world doable and easy. She will guide you toward your next steps. More importantly, she'll connect with retreat writers one-on-one, heart-to-heart, so your story can eventually do the same with readers. A die-hard Cubs fan who knows the value of heart, hope, faith and perseverance, Esther teaches at the Writer's Studio at the University of Chicago Graham School and at Chicago's Newberry Library. To learn more about Esther Hershenhorn, her books, and how she works with (and cares for) her writers, go here.
Cost: $375 for the workshop only. $789 for the workshop plus two nights lodging at Haley Farm and all meals. Lodging is single occupancy with a private bath. Meals are organic and homemade. There will be optional meditation and yoga classes. (There is also a FREE housing option available a few miles away from the Inn if you'd rather stay there.)
Cancellation Policy: Fees are nonrefundable; however, you may transfer your spot if you can find someone to take your place or if there is someone on the waiting list.
Questions? Feel free to email me (the organizer) at jenny [dot] rough [at] jennyrough [dot] com. Hope to see you in April!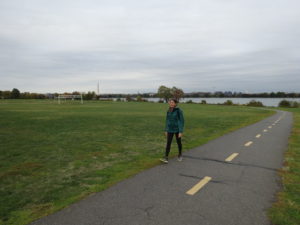 As I sat in gridlock on the George Washington Memorial Parkway during my 45-minute morning commute into Washington, I looked out the window. There was a woman my age running along the Mount Vernon Trail. I longed to be outdoors — and vertical.
That moment last fall, when I was 42, marked the beginning of a change in my life that would give me more energy and better fitness.
To continue reading my article in The Washington Post about being a pedestrian commuter, click here.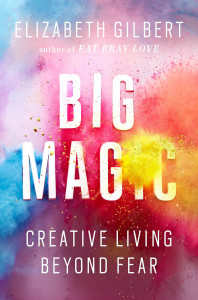 When my book club picked this book I was a tad skeptical. I thought I knew what to expect: an entertaining, inspiring read with a feel-good message. A little too "perfect" for my taste. Or worse, an author who came across as perfectly imperfect. I wasn't sure I'd like it—well, I loved it. Turns out, the book was funny, it had a fresh take on approaching creative ideas, it addressed how to handle frustration during the creative process, and it was eye-opening (people "murder their creativity by demanding their art pay the bills," the author says). Take your art seriously, she adds, but don't take it seriously. By the end, I was able to identify work that I'm ready to send into the world instead of tinkering with it for the millionth time. I was able to let go of stale ideas I'd been clinging to and make space for the ideas that are alive. For more good books and thoughts on nurturing your creative spirit, consider joining Roughly Speaking, my newsletter.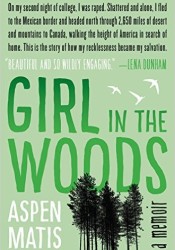 I got sick the day after Thanksgiving but had so much fun "recovering" by camping out on the couch with a stack of books. Some of these might be good holiday gift ideas:
Girl in the Woods If you liked Wild, read this book. Both writers walked the Pacific Crest Trail after devastating life events, yet for some reason I got a better feel for the trail from this woman's account. I closed the cover and felt like I needed to brush the cobwebs off my shirt and shake the leaves from my hair. It stirred up a strong desire to walk the PCT.
Between Gods Gorgeous writing. The author grew up in a Christian home with a churchgoing family only to discover her grandparents were Jewish. As she dug into her family history, the writer debated whether or not to convert to Judaism. It was a fascinating read. The only strange thing was that despite her agony over her conversion, I had no idea what she actually believed about God by the end (she wrote more about her family roots and the cultural aspects of faith).
Stir This book was about a woman who was running on a treadmill one morning when she suddenly had an aneurysm. In addition to many surgeries, she found her way back to health with the help of cooking. I loved the the brain parts, but if you're a foodie, you may love the kitchen and recipe parts.
Knowing God Knowing about God is one thing, but can we know God? Scripture says yes, and this book invites readers to meditate on Scripture in order to move God's word from our head to our hearts.
How About Never? Is Never Good for You? The New Yorker cartoon editor shares the story of his career. Funny.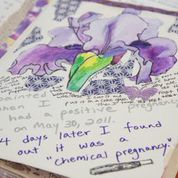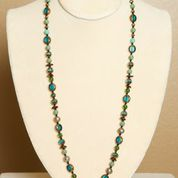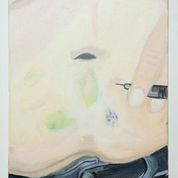 The pieces of artwork above are part of a pop-up exhibit called The ART of IF: Navigating the Journey of Infertility. The first piece is a journal written by a woman during fertility treatments. The second is a necklace made by a woman who wanted to keep a visual history of her fertility medication (each bead represents a shot). The third is a painting showing the toll treatments can take on the body.
When I was navigating my own journey, I came across a wordplay on the term ProCreation at Pulling Down the Moon (a holistic health fertility center). I loved the double entendre. My body wasn't able to generate offspring, but I could still be creative, and I could enjoy the work of others who were nurturing their creative spirits, like the artists above. Anyway, I wrote more about the story behind the ART of IF for Washingtonian's Well+Being blog. The exhibit is coming to Busboys & Poets (5th and K) in Washington on May 15 where I'll be teaching a writing workshop from 4-5pm. Today, on the ART of IF's blog, there is a post that describes one of the writing exercises we'll do in the workshop. I'd love to hear how you answer the question addressed in the post.
Α Ω
Lord
Jesus
Savior
Messiah
Emmanuel
Redeemer
Lamb of God
King of Kings
Wonderful, Counselor
Psalm
75 : 1
December 25 has come and gone, the advent candles have long been blown out, and the day of Epiphany is just a memory. And yet … I find that I'm still lingering in the joy of the season. My January days have been slow and calm. Each morning, as I sip coffee and eat my breakfast, I listen to Christmas hymns. Writing at the cabin, I gaze up from my desk and marvel at God's creation: His mountains, pines, aspen, junipers, and beautiful snow. And O, the holy nights.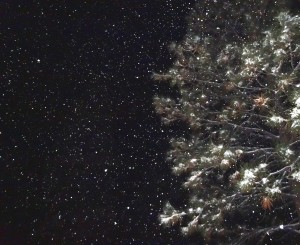 Recently, I had the chance to write two articles, one on fertility, and one on faith. The two matters are so closely intertwined, but it can be hard to see that because our world likes to extricate spirituality from every aspect of our day-to-day lives. To be frank, the faith article isn't written in the way I originally envisioned. I don't think I've ever been through so much back and forth during the publication process. But in the end, I like the way it turned out, and I really appreciate the editor's guidance on the story.
Still, I feel like I'm sitting on a gold mine of material from the faith article that never made it to print. I had the chance to interview an imam, a Mormon stake president, an atheist, a Jewish woman who used to live in Jerusalem and had studied at Hebrew University, and about twenty other people of various beliefs (part of my struggle to write a cohesive piece was that I was swimming in research!). I hope I can do something with all that great material one day.
One question I asked in a number of interviews was this: "What is the biggest difference between Judaism, Islam, and biblical Christianity?" A pastor who is profiled in the story, Pastor Scott, said it boils down to one thing: "Who is Jesus? They all have a different idea of who Jesus is," he said. "Is He truly the Messiah?"
The answer brings me back to Christmas. The "tree" of names above is similar to a design I once saw on a holiday card. Some years ago, I went through a major spiritual reorientation where I had to take a brutally honest look at my own beliefs about Christ. I began to read the scriptures in earnest only to discover I was in good company. Among other people, His disciples, His enemies, His cousin John the Baptist, the religious leaders of the day, the non-religious leaders of the day, and the crowds that followed Him ALL asked the question: Who is He?
Both times I visited Israel, I had the chance to spend time in Caesarea Philippi, the place where Jesus discussed that very issue with His disciples. While there, He asked them two questions: (1) Who do others say I am? (2) Who do you say I am?
When Pastor Scott shared his personal story with me during our interview, he said that there was a time he realized that his own ideas of God and spirituality had no basis. "I invented God the way I wanted Him to be," Scott said. "I thought, That can't be a good thing, because if God is really real, I can't invent Him according to what I want Him to be. I mean, He is the one who created me. I need to find out how He wants to approach me, how He wants me to approach Him. So I have to figure out if He has revealed himself to humanity in some way. Like, is one of these holy book really His revelation? What's the story?" Scott began to read various texts, including the gospel of John. And he prayed a simple prayer: God, if You're real, show me.
What a great place to start.
~ ~ ~ ~ ~ ~ ~
"For this reason also, God highly exalted Him, and bestowed on Him the name which is above every name, so that at the name of Jesus every knee will bow, of those who are in heaven and on earth and under the earth, and that every tongue will confess that Jesus Christ is Lord, to the glory of God the Father."
-Philippians 2:9-11
One of the best parts about being an aunt to my two little nephews is trying to find books they'll enjoy. Until my nephews were born, I never wandered into the children's section of bookstores. Now Hooray for Books, my town's independent children's bookstore, is a favorite spot. This holiday season, I discovered Tomie dePaola. Every time I flip through his pages, I'm amazed at the way his art gives life to the words. Here's the funny part: I'm walking around thinking I'm introducing books to my nephews, but in reality my nephews are the ones who are introducing books to me. So many wonderful books, books, books!