Enjoyed any good books lately?
Here's what I just read: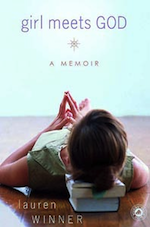 A fascinating memoir by Lauren Winner about her spiritual journey. My favorite quote: "God is a novelist. He uses all sorts of literary devices: alliteration, assonance, rhyme, synecdoche, onomatopoeia. But of all these, his favorite is foreshadowing."
Here is what I'm currently reading: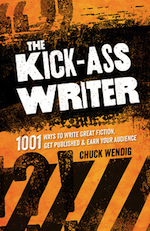 I almost didn't buy this book because of the title. I've let cuss words fly a bit too much lately. I never used to swear. What happened? Garbage in, garbage out, the Good Book says (paraphrased). To break my bad habit, I've been trying to steer clear of profane language. Not easy—it's everywhere. Even on Christmas cards, I'm sad to say. (I went to a stationary store yesterday and I couldn't believe how many holiday cards used the f-word. Whatever happened to Peace on Earth?) Anyway, the intro to this book warns the reader: "Mind the language; it gets a bit naughty." Alas, I made an exception to my rule. Wendig is funny, and he has some decent writing advice.
Here's what I'm about to read: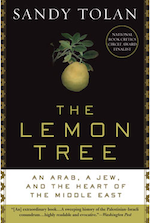 My book club picked this book for next month. I plan to read it over Thanksgiving weekend.
OK, your turn.
What have you just read?
What are you currently reading?
What are you about to read?
This Friday I'll be at the National Press Club talking about writing the personal essay. To prepare, I pulled a document box off my shelf that contains a bunch of notes from prior writing classes. As I sifted through my papers, I came across a book recommendation from Barbara Abercrombie. She said this book makes a great baby gift: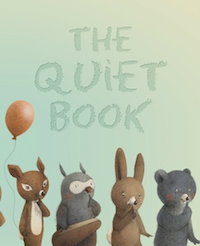 I hopped online and used the "look inside" feature to flip through the book (and its sister book), written by Deborah Underwood. My eyes welled up. The book holds a touching message, and it's beautifully illustrated. I ordered it for my nephew. But you know what? I really need to order this for adults, myself included!
Where are the quiet moments in your life? In mine?
On Friday I'll talk about the elements of an essay, finding topic ideas, and different ways to pitch editors. But I think the best advice I can give is to quiet down. Quiet is a gift. Writers especially must learn how to have daily quiet times.
Quiet can be uncomfortable.
I've noticed, however, that when I move beyond the uncomfortable part of quiet to the still and peaceful part, I want to stay. And I often discover that I have nothing to say — that what I was going to talk or write about was mindless chatter. So I wait in the quiet. (Sometimes I have to wait awhile.) Eventually, I might find a thought to share. If not, that's okay. I'll listen in silence.
~~~~~~~
In 1 Kings 19, the prophet Elijah was lodging in a cave on a mountain, and the Lord passed by. The text says that a strong wind broke rocks into pieces, but the Lord was not in the wind. Then there was an earthquake, but the Lord was not in the earthquake. Then there was a fire, but the Lord was not in the fire. After the fire, "a sound of gentle blowing." That's where Elijah encountered the Lord.
If pigs are given space, they'll sleep in a clean area, but if they're confined, they'll sleep in their poo.
"At times, humans are like a pig in poo," my friend Lindsay mused.
"How so?" I asked.
"We feel warm and cozy in the muck. We know it would be better for us if we left the muck, cleaned up, and moved to a healthier place. But change is hard . . .  and scary. It's easy to stay stuck in the poo. We tell ourselves the same story over and over, and that sad tale becomes the narrative of our lives."
I've been thinking about the pig in poo all week. What areas of my life need to be cleaned up? What mental and emotional confines have I locked myself into? What narrative have I made myself believe? Is it time to make a change? I really like the pig in poo story. So I thought I'd share it.
Jesus once gave his disciples the gift of peace.
"Peace I bequeath to you," he said.
He was close to death. And I guess he decided to discuss his will. But instead of handing down personal property, he handed down the gift of peace.
"A peace this world cannot give—this is my gift to you," he said. "Let not your hearts be troubled, neither let them be afraid."
I have been meditating on that verse for months. Years.
How could he even think of peace at such a time? How could he command (yes, command, not suggest) that his disciples remain untroubled when his own soul was troubled? (John 12:27.) And when their lives were about to fall apart? And what sort of peace can he give that the world cannot?
I've had a busy fall.
It's wake up and go, go, go.
WHOOSH!
I'm behind.
I'm overwhelmed.
I'm troubled.
At times I want the clock to stop so I can catch up.
Everything keeps changing—and changing fast. My dad used to remind me that, "The only constant is change." Okay, but lately it seems nothing stays the same for more than a few moments. How can I find the rhythm of life? How can anyone?
God's truth doesn't change.
God's grace doesn't change.
God's loving-kindness doesn't change.
At rock bottom, it's there: God's truth, God's grace, God's loving-kindness.
That's what I can count on.
Always.
Nothing else could bring such peace.
We're loved by the One who:
"…bounds the oceans' waters,
ebbs and flows the tides,
keeps the stars in their courses,
and gives life to all creatures."
(The Valley of Vision)
May we remember that.
And may that bring us peace.
According to the online job site CareerBliss, I once held the unhappiest job in the country: associate attorney. During my years at a Los Angeles law firm, days blurred into nights that toppled into weekends as I drafted motions at 2 a.m. yet still failed to hit the required number of billable hours. During my downtime, I ignored the urge to unwind outdoors and breathe fresh air. I was too busy managing panic attacks, insomnia, and tension stomachaches. (Lawyers argue a lot, and I hate to fight.) Not surprisingly, I burned out. The day I left the firm, I burst out of the cold office building, dumped my business suit and heels in a heap on my apartment floor, and ran — sprinted, in fact — to the Pacific Ocean …
To finish reading my essay "Still Waters" head over to the Bay Journal >>
Hello faithful readers-
It's been awhile. Thank you for sticking with me. I know I'm inconsistent with new posts, but I do enjoy this space to share what I'm learning and reading, and I appreciate you for being here.
Last Saturday night I was up until 2:30 a.m. captivated by this woman's story: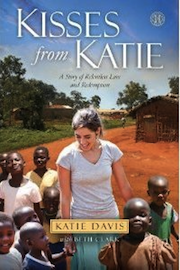 When Katie was 18, she traveled to Uganda to teach kindergarten for 10 months. She is still there today — and she is now the mother of 14 girls. Fourteen!
In the YouTube video of her book trailer she says: "People say to me all the time, 'Wow, you are so lucky that you found what God wants you to do with your life.' And I kind of look at those people and think: I didn't find it. It was in the Bible. As someone who calls themselves a Christian, it's very apparent that you are to love the Lord with all your heart, and you're to love your neighbor as yourself. Myself doesn't want to be starving. So I don't want other people in the world to be starving."
It was a hard book to read. Hard to face the truth that I'm often too busy with my own concerns to notice the needs of others. I must change. Katie's work has reached so many little children in Africa. Her work has reached me, too.
Learn more about Katie's nonprofit, Amazima.
Order Katie's book here.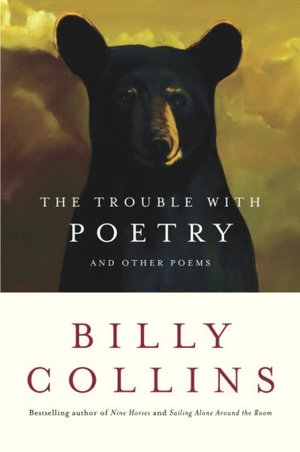 I was on the upper deck of the writing cabin reading/meditating lost in thought and prayer when all the sudden a bear wandered in the backyard. He was two feet away. Gorgeous cinnamon color. He walked right through the wildlife pond (which was dry because of such little rain), over the herb garden, and to solar panel that runs the outdoor water pump. He sniffed the panel for a few seconds then he disappeared into the thick oak brush and pine trees. I stayed silent and observed. It was the neatest wildlife encounter I've ever had. I felt completely safe on the deck (up one story) behind the railing. For a split second I thought about racing to grab my camera, but I decided to simply stay put and enjoy the sacred moment.
I'm at the cabin at work on a book and making a big push to finish the current draft. I still need your prayers. I have savored my time here before "cubical life" begins (one week from now I start a temporary gig at a magazine). Here's what I've read this trip: The Trouble with Poetry by Billy Collins; Weekends with O'Keeffe by C.S. Merrill; Wait Until Tomorrow by Pat MacEnulty.
Anyone intrigued with O'Keeffe's life and art should read Merrill's book. O'Keeffe hired the author to catalog her personal library and the two women developed a friendship. And MacEnulty's book was the best surprise. I bought it last time I was out here and tucked it away in the loft so I'd have a book ready and waiting for me . . . but I had forgotten that I had done that. So when I found it I was thrilled, and the best part is that it's a wonderful read. It's about a woman who becomes the caregiver for her elderly mother.
I'll sign off with a bear hug . . .
I burst out of the prop plane and stepped onto the tarmac at the small airport in southwest Colorado. After a wet and gloomy June in D.C. (double the amount of rainfall than usual), I enjoyed a truly sunny summer solstice. Hope you did, too. The wildfires out in Colorado are bad — so while I soaked up the yellow rays I did pray for rain (with as much earnestness as I could muster). In other news…
Hot Off the Press: (1) my essay "A Climate Adjustment" is running on the back page of the June issue of Chesapeake Bay magazine (available on newsstands); and (2) my piece "5 Great Places to Paddleboard" is in Bethesda magazine's ultimate summer guide issue.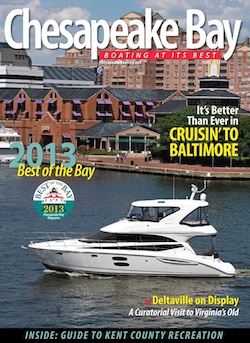 Book of the Month: I am still on an Elisabeth Elliot kick. Since she published over 20 books, I'll probably be on this kick for awhile. A few days ago, I started A Lamp Unto My Feet, an out-of-print book about her personal reflections while reading Scripture. As trivial and foolish as it sounds, I can get quite discouraged that Ron and I still cannot seem to work out our "geography issue." This precious book has helped me navigate that problem. Sunlight, after all, is only physical. The true Light is spiritual.
Wishing you an enlightened summer!
I love to read journals by other writers. Anne Frank, Sylvia Plath, Laurel Lee, Phyllis Theroux, and Martha Manning are a few published ones I can think of off the top of my head. I also like books written as journals, and I came across such a book the other day. It opens in the year 1831 with these words:
How dreadfully old I am getting! Sixteen! Well, I don't see as I can help it. There it is in the big Bible in Father's own hand: "Katherine, born Jan. 15, 1815." I meant to get up early this morning, but it looked dismally cold out of doors and felt delightfully warm in bed. So I covered myself up and made ever so many good resolutions. I determined in the first place to begin this journal. To be sure, I have begun half a dozen and got tired of them after a while. Not tired of writing them, but disgusted of what I had to say of myself. But this time I mean to go on, in spite of everything. It will do me good to read it over and see what a creature I am.
Love that. I have kept a notebook (or journal) on and off for years. It can be hard to face myself on the page. Yet if I don't face hard truths, how will I change those parts of me?
In the February 2013 issue of O Magazine, Sarah Beauchamp wrote an article on the 5 Moment Memoir. Write down 5 moments of your day. They can be one sentence each. A fragment of a sentence. I've discovered this method clicks with me. I write my 5 Moment Memoir most nights before bed.
Do you keep a notebook? What is your method? Do you have any favorite books written in the form of a journal?
~~~
"If the writers of the world took chairs in an orchestra pit, each would hold the instrument that he plays best. There are first- and second-string fiction writers; biographers are at the oboe; historians play the cello; poets are the flutists. Somewhere in the symphony are those who love a journal."
—Laurel Lee, Signs of Spring
I hit a wall.
I'm hard at work on a book, and the other day I told Ron: "I might have just wasted the last three years of my life."
At times it feels like I'll never reach the end.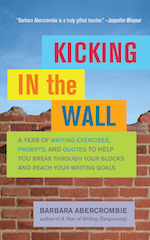 My writing instructor, Barbara Abercrombie, has advice for such times. Her new book, Kicking in the Wall (a supplement to A Year of Writing Dangerously), says to "keep your pen moving" and provides 365 days' worth of one-line prompts and exercises to "help you get into your stories."
Another dear mentor (albeit one I've never met) wrote over 20 books. She started publishing in the days before blogs, so she'd snail mail a paper newsletter to her subscribers. In those newsletters she asked for prayers. Once she said: "Pray, too, for help as I try to write the book. If I try to do it alone, I shall most certainly fail. It is divine help . . . that I need."
She admitted she had no special claim to anybody's prayers, but that we all need others to pray for us.
Love that.
So dear readers and writers, pray for me as I write this book. That the words on the page are words I ought to write. And if my words are in error, that God directs me. And I will pray that God gives you the endurance to run whatever race is set before you (Hebrews 12:1-2).
Okay, time to kick in that wall.
Let's begin on our knees.