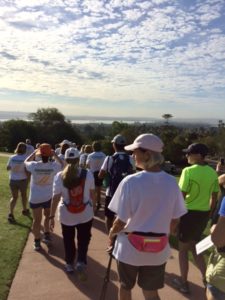 America's coastlines are beautiful. There is nothing like walking along the ocean. In the photo above, EverWalk participants were on a 133-mile trek from Los Angeles to San Diego last fall. EverWalk is a movement to get Americans on their feet. Join EverWalk in September 2017 for a journey from Boston to Portland, Maine. (You can register for a short walk, a full day, multiple days, or the whole thing.) Or sign the EverWalk pledge to walk at least three times a week no matter where you live. Read more about EverWalk and the people who took the endurance challenge in my latest story for The Washington Post.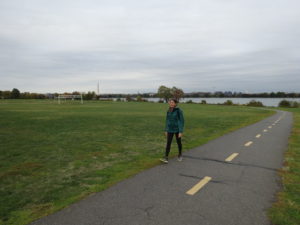 As I sat in gridlock on the George Washington Memorial Parkway during my 45-minute morning commute into Washington, I looked out the window. There was a woman my age running along the Mount Vernon Trail. I longed to be outdoors — and vertical.
That moment last fall, when I was 42, marked the beginning of a change in my life that would give me more energy and better fitness.
To continue reading my article in The Washington Post about being a pedestrian commuter, click here.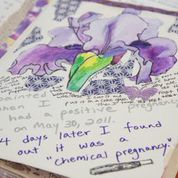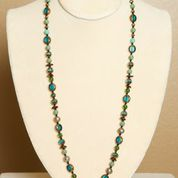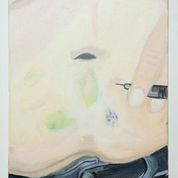 The pieces of artwork above are part of a pop-up exhibit called The ART of IF: Navigating the Journey of Infertility. The first piece is a journal written by a woman during fertility treatments. The second is a necklace made by a woman who wanted to keep a visual history of her fertility medication (each bead represents a shot). The third is a painting showing the toll treatments can take on the body.
When I was navigating my own journey, I came across a wordplay on the term ProCreation at Pulling Down the Moon (a holistic health fertility center). I loved the double entendre. My body wasn't able to generate offspring, but I could still be creative, and I could enjoy the work of others who were nurturing their creative spirits, like the artists above. Anyway, I wrote more about the story behind the ART of IF for Washingtonian's Well+Being blog. The exhibit is coming to Busboys & Poets (5th and K) in Washington on May 15 where I'll be teaching a writing workshop from 4-5pm. Today, on the ART of IF's blog, there is a post that describes one of the writing exercises we'll do in the workshop. I'd love to hear how you answer the question addressed in the post.
Α Ω
Lord
Jesus
Savior
Messiah
Emmanuel
Redeemer
Lamb of God
King of Kings
Wonderful, Counselor
Psalm
75 : 1
December 25 has come and gone, the advent candles have long been blown out, and the day of Epiphany is just a memory. And yet … I find that I'm still lingering in the joy of the season. My January days have been slow and calm. Each morning, as I sip coffee and eat my breakfast, I listen to Christmas hymns. Writing at the cabin, I gaze up from my desk and marvel at God's creation: His mountains, pines, aspen, junipers, and beautiful snow. And O, the holy nights.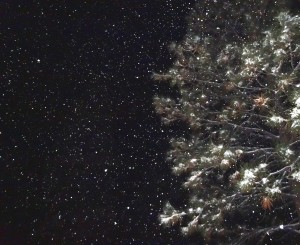 Recently, I had the chance to write two articles, one on fertility, and one on faith. The two matters are so closely intertwined, but it can be hard to see that because our world likes to extricate spirituality from every aspect of our day-to-day lives. To be frank, the faith article isn't written in the way I originally envisioned. I don't think I've ever been through so much back and forth during the publication process. But in the end, I like the way it turned out, and I really appreciate the editor's guidance on the story.
Still, I feel like I'm sitting on a gold mine of material from the faith article that never made it to print. I had the chance to interview an imam, a Mormon stake president, an atheist, a Jewish woman who used to live in Jerusalem and had studied at Hebrew University, and about twenty other people of various beliefs (part of my struggle to write a cohesive piece was that I was swimming in research!). I hope I can do something with all that great material one day.
One question I asked in a number of interviews was this: "What is the biggest difference between Judaism, Islam, and biblical Christianity?" A pastor who is profiled in the story, Pastor Scott, said it boils down to one thing: "Who is Jesus? They all have a different idea of who Jesus is," he said. "Is He truly the Messiah?"
The answer brings me back to Christmas. The "tree" of names above is similar to a design I once saw on a holiday card. Some years ago, I went through a major spiritual reorientation where I had to take a brutally honest look at my own beliefs about Christ. I began to read the scriptures in earnest only to discover I was in good company. Among other people, His disciples, His enemies, His cousin John the Baptist, the religious leaders of the day, the non-religious leaders of the day, and the crowds that followed Him ALL asked the question: Who is He?
Both times I visited Israel, I had the chance to spend time in Caesarea Philippi, the place where Jesus discussed that very issue with His disciples. While there, He asked them two questions: (1) Who do others say I am? (2) Who do you say I am?
When Pastor Scott shared his personal story with me during our interview, he said that there was a time he realized that his own ideas of God and spirituality had no basis. "I invented God the way I wanted Him to be," Scott said. "I thought, That can't be a good thing, because if God is really real, I can't invent Him according to what I want Him to be. I mean, He is the one who created me. I need to find out how He wants to approach me, how He wants me to approach Him. So I have to figure out if He has revealed himself to humanity in some way. Like, is one of these holy book really His revelation? What's the story?" Scott began to read various texts, including the gospel of John. And he prayed a simple prayer: God, if You're real, show me.
What a great place to start.
~ ~ ~ ~ ~ ~ ~
"For this reason also, God highly exalted Him, and bestowed on Him the name which is above every name, so that at the name of Jesus every knee will bow, of those who are in heaven and on earth and under the earth, and that every tongue will confess that Jesus Christ is Lord, to the glory of God the Father."
-Philippians 2:9-11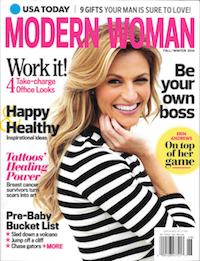 Write about the shoes you wore. 
I was in a writing workshop, and that was our warm-up assignment. A stream of consciousness exercise.
"Shoes are fascinating," the teacher said.
Shoes? Fascinating? Not to me, I thought. Unlike most women, I'm not crazy about shoes. Why shove my feet (the foundation of my body) into pointy-toed, 4-inch, ciggy-heel stilettos, known to cause bunions, hammertoes, and nerve pain? I feel similarly about platforms and peep toes, which are linked to other painful ailments. I scribbled all this down in my notebook … and kept writing. On second thought, maybe I did have something to say about shoes. My essay "Shoe Love" is running in the back page column of Modern Woman, on newsstands now.
* * *
Speaking of shoes, in her book Still Writing (a wonderful memoir on craft), Dani Shapiro suggests shoes as a possible way to begin a story. Shapiro writes: "Just the way we put one foot in front of the other as we get out of bed, the way we brush our teeth, splash water on our faces, feed our animals if we have animals, and our children if we have them, measure the coffee, put on the kettle, we need to approach our writing one step at a time. It's impossible to evoke an entire world at the start. But it is possible to describe a crack in the sidewalk, the scuffed heel of a shoe. And that sidewalk crack or scuffed heel can be the point of entry, like a pinhole of light, to a story, a character, a universe."
Well said. Now go ahead and pull out a pencil and paper and get to work. Write about the shoes you wore.
Toothbrush.
Wedding band.
Hard copy of Holy Bible.
Contact lenses.
2 cereal bowls.
If I could own no more than 300 items, these are a few things that would make the cut (not necessarily in that order). Items that wouldn't make the cut:
Bed frame.
High heels.
Watch.
Golf clubs.
Floor lamp.
Old yearbooks.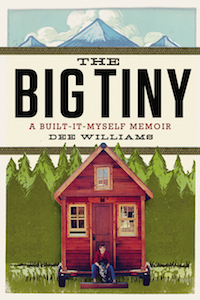 In her book The Big Tiny, Dee Williams sold her 3 bedroom house and moved into an 84-square-foot space. She had room to keep about 300 items. Everything else she sold, donated, or tossed. Ever since I finished reading the book, I've wandered around our place picking up random objects and asking: Is this one of my 300 items?
I love the idea of lightening my load, paring back, downsizing. The book made me think of the passage in the Bible when Christ sent out 70 disciples ahead of Him to prepare cities for His upcoming visit. He told them to take no money belt, no bag, and no shoes. Huh? Cash, my backpack, and my trail running shoes would absolutely be on my "to keep" list.
I wonder: Do I trust my "stuff" … or God? The other day a woman asked me to open my left hand and look at my palm. "See the M," she asked. Yep. "M stands for Maker. Let go of what you're holding onto so tightly and see what God, your Maker, puts in your hand." When I cling so dearly to my stuff, there is no room to receive what God may give.
Psalm 19 says, "The heavens declare the glory of God. The skies display His craftsmanship. Day after day they pour forth speech; night after night they make Him known. They speak without a sound or word; their voice is never heard. Yet their message has gone throughout the earth, and their words to all the world."
They speak without a sound or word.
Love that.
Last summer, Ron and I visited Moab, Utah. We spent two days hiking in Arches National Park where we scrambled over boulders deep in the red rock. I was awe-struck by the dramatic landscape. I've wanted to write about our trip ever since, but I was without words. What is there to say? Creation speaks for itself. So maybe that's it. Maybe the best thing I can say about Moab is simply this: If you ever get the chance . . . GO!