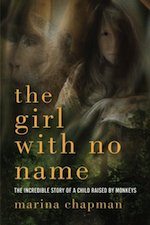 Awful title, but wonderful book. It's about a girl living in South America who was abducted and then abandoned in a forest. She learned to survive by imitating the actions of capuchin monkeys (she ate what they ate, climbed the same trees, etc.). The ghostwriter did an amazing job–such vivid imagery of life in the jungle from the perspective of a five-year-old girl.
Here's the opening: "There was something about pea pods that mesmerized me. I didn't know why, but there was something magical about the way the bloated pods burst so cleanly in my hand when I squeezed them. So the corner of the allotment where the peas grew was special, and I would spend hours there, engrossed in my own little world."
I was hooked. Maybe because I love to split pea pods, too.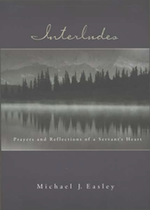 This book was written by our teaching pastor in Israel.
Prayers that read like poems.
I'm reading them slowly, one a day. Prayer is hard (at least, it is for me). It's especially hard to move away from rattling off a list of things I want. It's hard to have faith that prayer accomplishes much. It hard to keep still and know that He is God (Psalm 46:10).
A few months ago I tried to talk one of the pastors at our church into letting me run a donation-based book table or lending library, but the idea got swept away in the midst of other stuff…I need to circle back. This is so going to be a selection when the book table is a go.
What have you read lately? Anything good?
"I had no idea how much I love limestone," I said to Ron over and over as we walked around Israel.
"Me, too," he said.
"I love its look, its texture, and its smell," I said.
The sandstone color lit up the land.
As we toured the country there were certain places I thought I'd feel indifferent about, but it turned out I absolutely loved. Qumran was one of those places. It's where the Dead Sea Scrolls were found. Toward the end of the second century B.C. and during the first century A.D., the Essenes, a Jewish sect, lived and studied at the site. In addition to composing non-biblical writings (prayers, commentaries, and hymns), the Essene scribes copied down Hebrew Scripture in a special room called the Scriptorium. The scribes were so accurate and precise—down to every last jot and tittle—that a single mistake meant the page/scroll was discarded and the scribe started his work over. In 1947, Bedouin shepherds discovered seven of the ancient scrolls. Archaeologists then excavated the area and found thousands of manuscript fragments. The scrolls had been so well preserved because the Essenes hid them inside pottery jars before they placed the jars in arid limestone caves (the "library"). The Dead Sea Scrolls include portions or complete copies of every book of the Hebrew Bible except Esther. It was so neat to see a handful of the scrolls on display—they're the oldest known copies of biblical texts.
It's hard to believe we've been back home for three weeks now. In much of the time since, I've been squirreled away at the Colorado cabin, writing, writing, writing. I now call my writing area the Scriptorium. The word means "place of writing."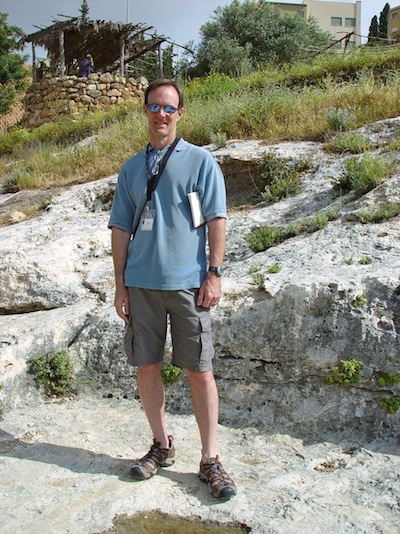 Here's Ron on the bedrock in Nazareth. The same bedrock that was in Nazareth 2,000 years ago when Jesus lived and (maybe) the same bedrock Jesus climbed and ran and scrambled on with his Nazarene friends.
In Nazareth, we walked a donkey path and saw the different vegetation and soil types of the region.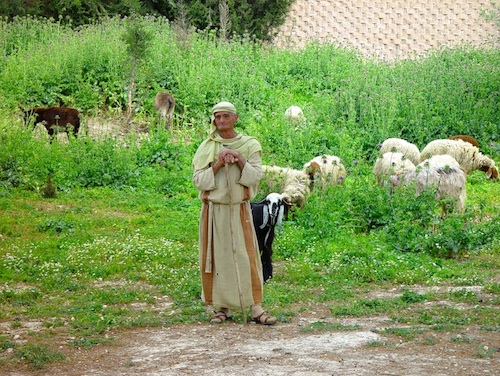 We talked about the parable of the sower. A gardener went out to sow. Some seed (1) fell on the path; (2) other fell in rocky soil; (3) other fell among thorns; and (4) other fell into the good soil. The parable tells what became of all the seeds (Luke 8:4-15). I often thought I fit the third category. Too often I get tangled up in the riches of this world and choked by its worries. But after my trip to Nazareth I wondered about the rocky soil. Is my faith shallow? And the soil that fell on donkey path. Is my heart too hard to receive the word of God?
Let's root firmly in God's grace.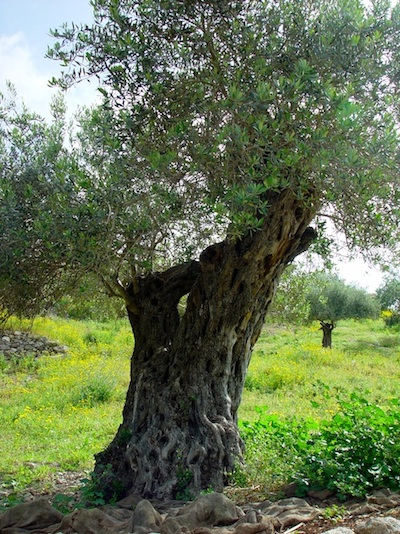 Olive leaves, like those growing on the tree of this 400-year-old beauty, symbolize peace. ("But the fruit of the spirit is . . . peace." ~ Gal. 5:22)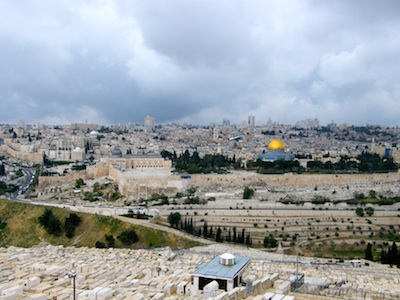 There is a passage in the Bible where Jesus wept for the city of Jerusalem. Near the end of his ministry, Jesus rode a colt as he descended the Mount of Olives. The crowds cheered joyfully, yet Jesus wept. He wept not for himself (even though within days the crowds would cry, "Crucify!"), but for a people who didn't know "the things which make for peace."
Ron and I were able to visit Israel this month. I am forever changed. It's hard to describe . . . it's like an earthquake trembled inside my body and left fundamental corrections on a physical level, a spiritual level, and every level in between. In addition to foundational shifts, my spirit was stirred. And I experienced a wide spectrum of emotions.
Emotion is one of my favorite topics. Our culture is obsessed with emotions, especially the one called happiness. (This puzzles me. Why would we want to feel the exact same emotion all the time?) On the other hand, I think the church dismisses emotions too hastily. True, it's a bad idea follow every fickle feeling with an action, but emotions can serve a purpose and I think we ought to pay attention to them. Emotions are a beautiful gift from God.
In due time, I'll write about some of my "emo" moments in Israel—Mount Carmel, Mount Moriah, the bedrock of Nazareth, the caves of Ein Gedi, the shores along the Sea of Galilee, the hallows of Caesarea Philippi, the views from Mount Arbel.
But for now, I'll simply share this: In Israel I never had a good chance to sit with my emotions. The days were crammed. So I carried my feelings with me—accumulated them—as I tried to keep up with all the sites to see, notes to take, budding friendships to nurture, delicious Israeli food to eat, archeological lessons to learn, and biblical teachings to soak up. (At times I literally caught myself trying to listen to the tour guide with my left ear and the pastor with my right ear—impossible for my brain.)
Twelve days after we left, we walked in the front door of our Virginia townhome. When morning broke, I went alone up to my loft. The floodgates opened.
I wept in gratitude – for the trip of a lifetime.
I wept in wonderment – for a gorgeous country and the beauty of God's creation.
I wept in reverence – for the deliberate hand of God; the intention behind his ways.
I wept in despair – for all the mornings I've skipped reading Scripture.
I wept in joy – for a new understanding of the living Word.
I wept in sadness – for our fleeting time on this earth.
I wept in gratefulness – for God's everlasting love.
And I wept in sorrow – for Jerusalem, a city that still does not know peace. For a world that's turned it's back on God.
I'll wrap up now, but here's the takeaway: THIS is the greatest book ever written. Read it. Daily. Always.
~~~
"Read and study your bible every day. Find time where you can hole up and commune with God's spirit, and God's word, and God's third greatest gift to man . . . coffee."
-M. Easley, our teaching pastor in Israel
Measure thy life by loss instead of gain;
Not by the wine drunk, but by the wine poured forth;
For love's strength standeth in love's sacrifice;
And whoso suffers most hath most to give.
-Ugo Bassi, Sermon in the Hospital
It's that time again. My updated guide to Personal Essay Markets is online over at mediabistro. Thank you to all the wonderful editors who gave me the inside scoop on topics, length, pay, submission etiquette, and advice on how to break in. And to the many, many, many, many, many, many, many, many, many, many, many writers who pointed me in the direction of new markets to include in the guide—thank  you! I'm so grateful.
Want to break into personal essay writing? I love the way A River Runs Through It demonstrates the writing process. In the movie, Norman is home-schooled by his father, the Reverend Maclean. When Norman hands his father an essay, the Reverend hands it back and instructs, "Half as long." When Norman turns in the revision, the Reverend says, "Again. Half as long." When Norman turns in the third draft, the Reverend says, "Good. Now throw it away."
Let me suggest a slightly different order. Pick a target market and read at least a half dozen examples. Write the first draft. Don't revise. Just get the words on the page. Done? Throw that away. Pull up a new Word doc and rewrite your essay. You can revise the second draft. Show it to a few people (other writers) and give it a hard self-edit based on their feedback. Resist the urge to send it off. File it away instead. After a week or two, reread it with fresh eyes and give it a good polish. Now you can submit.
All writers deal with rejection. Don't be discouraged. Take my latest essay as an example. As many of you know, I struggled with our move to the D.C. area. My piece is about how paddleboarding helped me connect to the region. My early draft didn't have enough substance. It was rejected. I reworked it. It was rejected again. I reworked it again. It found the right home. Yours will, too.
~~~
"Whenever I kvetched about being stuck or about having nothing original to say, [my editor] would reassure me with the words, 'You're sitting on your brains. Go take a walk.' So I walked, and it helped."
-Anita Diamant, Pitching My Tent
It is such a treat to read a book written by someone you know.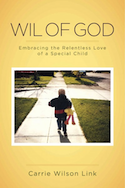 This past weekend I read (more like inhaled) Wil of God by Carrie Wilson Link. Carrie and I met at a writing workshop years ago. She has a wonderful blog (I laugh out loud every time I read it because of her sense of humor). Wil of God is Carrie's memoir about parenting her son, Wil. He's s boy with special needs who loves Elmo ("Elmokins"), numbers, and garlic toast. I wanted to keep reading story after story about him; his personality is irresistible. I loved the part where Carrie talked about how spring is not a cheery time–it's a hard season (I agree). And I loved the part where her family adopts a companion dog for Wil. Carrie is a compulsive cleaner, vacuum-er, countertop-wiper-downer, etc., so you can imagine her hesitation about bringing home Flicka, a lab that sheds like crazy twice a year. Carrie wrote, "I brush and brush and brush and brush. It is rhythmic. It is soothing. It is peaceful. It is, dare I say, healing … [Flicka] is losing what she is no longer in need of … I want to shed profusely twice a year and a little all year long." Love that.
I also read Desperado's Wife by Amy Friedman. Leo's owner (remember Leo, the camping dog?). Amy's book is about falling in love with man in prison. She was a columnist on assignment when she met him. They married. When he was released from jail they moved to a bungalow where her husband built a giant sea wall on the property. Of all things. He literally cemented himself in, stone by stone. And of course the story dealt with the emotional wall he had built up. And how Amy had trapped herself in the relationship. Fascinating. I have definitely cornered myself in my own prisons. So many of us do, whether it's with jobs, money, relationships, addictions. Have you? How have you been released?
On top of reading books written by my friends (I love saying that), here's the biggest news: Meet my nephew, Hudson James.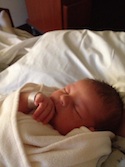 Isn't he adorable? He was born the day after Valentine's Day. Welcome to the world little Hudson.
If you could once make up your mind in the fear of
God never to undertake more work of any sort than
you can carry on calmly, quietly, without hurry or flurry,
and the instant you feel yourself growing nervous
and like one out of breath, would stop and take breath,
you would find this simple common-sense rule doing for you
what no prayers or tears could ever accomplish.
–Elizabeth Prentiss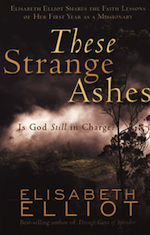 Do you ever reread books? There are three or four books I reread over and over from start to finish, but typically I only reread certain passages from my favorite books, or flip through the pages and reread random sections, not the entire thing again. A book lover I met a few weeks ago suggested that I reread more books. She said, "Don't be surprised if your observations and feelings about the work are different." So maybe I'll pick an ol' favorite off my bookshelf and give it a whirl.
The other day I asked a group of writers to each share one of their favorite books. One woman said, "Whatever book I'm reading at the moment." How true! One week this year I would've said Against Wind & Tide. Another week, Wild. This week it's These Strange Ashes.
These Strange Ashes is a woman's personal account of moving to the jungles of Ecuador in 1952 to do missionary work. No refrigerators. No faucets. No toilets. A wood frame with no mat for a bed. Simple medical care. And talk about "whole foods" – no organic pizza or low-mercury canned tuna, but pineapple, eggs, and plantains. Her description of "housekeeping" in the jungle is one of my favorite chapters. I also found it fascinating to read about how she learned an unwritten language and set about the task of coming up with an alphabet in order to fashion the language into written form so that the Bible could be translated. She had to find an "informant" – a native who was willing to work with her (she didn't have much luck when she offered to pay the people from the jungle since the people from the jungle didn't have much need for money). Eventually she found a non-native who could speak the language, and she studied how he moved his mouth when he said the words. Then she had to puzzle through what was a prefix, a suffix, etc. And how to pick out the single words from a phrase. And figure out where the syllables fell. Anyway, I'm about halfway through and I am off to read more…
What is your favorite book (at the moment)?
Do you ever reread books?