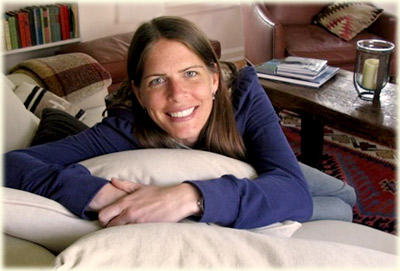 Growing up I loved to read. And as a freshman at Miami University (Ohio), I still remember the moment when putting words to the page "clicked" in creative writing class. Even as a law student, buried underneath course outlines and textbooks, I knew deep inside I'd be a writer. One day. My fear of living as a starving artist kept me from that path. After graduating summa cum laude from Pepperdine University School of Law, I clerked for a federal district court judge. I then joined the law firm Kirkland & Ellis before returning to Pepperdine to serve as assistant general counsel. As much as I loved working in higher education law, drafting motions and policies didn't satisfy my yearning to write creatively.
In 2004 I took six weeks off. I logged out of e-mail, unplugged the TV, and didn't answer the phone. I immersed myself in beach walks, silence, and solitude. I read poetry (well, one poem). I wrote until my arm was nearly dangling by a tendon. In short, I spent six weeks watering my soul. I had a thirsty soul! At the end of my sabbatical, I faced the fact that even though I was a lawyer, I wasn't really a lawyer. So I wrapped up the odds and ends of my life as an attorney and launched a new career. I've been writing ever since.
My work has been published by magazines, newspapers, anthologies, e-zines, and public radio. I am happily married to my husband, Ron, who manages investments for Financial Services Advisory. Although based in Alexandria, Virginia, we spend plenty of time out west in Colorado.
Today, I've officially been a freelance writer longer than I practiced law, and I offer workshops and retreats to help other people nurture their creative spirits. I love the way writing connects people to one another. In Bird by Bird, Anne Lamott says, "Think of how many times you have opened a book, read one line, and said 'Yes!'" That is my prayer–that my writing fosters the gift of Yes!