Quiet
This Friday I'll be at the National Press Club talking about writing the personal essay. To prepare, I pulled a document box off my shelf that contains a bunch of notes from prior writing classes. As I sifted through my papers, I came across a book recommendation from Barbara Abercrombie. She said this book makes a great baby gift: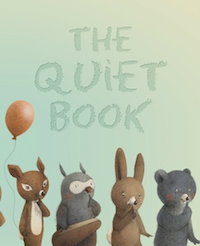 I hopped online and used the "look inside" feature to flip through the book (and its sister book), written by Deborah Underwood. My eyes welled up. The book holds a touching message, and it's beautifully illustrated. I ordered it for my nephew. But you know what? I really need to order this for adults, myself included!
Where are the quiet moments in your life? In mine?
On Friday I'll talk about the elements of an essay, finding topic ideas, and different ways to pitch editors. But I think the best advice I can give is to quiet down. Quiet is a gift. Writers especially must learn how to have daily quiet times.
Quiet can be uncomfortable.
I've noticed, however, that when I move beyond the uncomfortable part of quiet to the still and peaceful part, I want to stay. And I often discover that I have nothing to say — that what I was going to talk or write about was mindless chatter. So I wait in the quiet. (Sometimes I have to wait awhile.) Eventually, I might find a thought to share. If not, that's okay. I'll listen in silence.
~~~~~~~
In 1 Kings 19, the prophet Elijah was lodging in a cave on a mountain, and the Lord passed by. The text says that a strong wind broke rocks into pieces, but the Lord was not in the wind. Then there was an earthquake, but the Lord was not in the earthquake. Then there was a fire, but the Lord was not in the fire. After the fire, "a sound of gentle blowing." That's where Elijah encountered the Lord.