Israel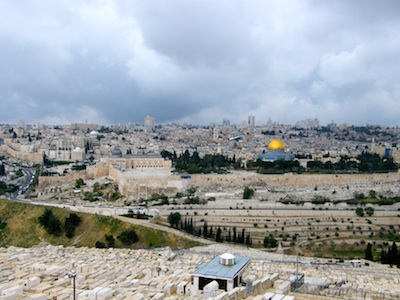 There is a passage in the Bible where Jesus wept for the city of Jerusalem. Near the end of his ministry, Jesus rode a colt as he descended the Mount of Olives. The crowds cheered joyfully, yet Jesus wept. He wept not for himself (even though within days the crowds would cry, "Crucify!"), but for a people who didn't know "the things which make for peace."
Ron and I were able to visit Israel this month. I am forever changed. It's hard to describe . . . it's like an earthquake trembled inside my body and left fundamental corrections on a physical level, a spiritual level, and every level in between. In addition to foundational shifts, my spirit was stirred. And I experienced a wide spectrum of emotions.
Emotion is one of my favorite topics. Our culture is obsessed with emotions, especially the one called happiness. (This puzzles me. Why would we want to feel the exact same emotion all the time?) On the other hand, I think the church dismisses emotions too hastily. True, it's a bad idea follow every fickle feeling with an action, but emotions can serve a purpose and I think we ought to pay attention to them. Emotions are a beautiful gift from God.
In due time, I'll write about some of my "emo" moments in Israel—Mount Carmel, Mount Moriah, the bedrock of Nazareth, the caves of Ein Gedi, the shores along the Sea of Galilee, the hollows of Caesarea Philippi, the views from Mount Arbel.
But for now, I'll simply share this: In Israel I never had a good chance to sit with my emotions. The days were crammed. So I carried my feelings with me—accumulated them—as I tried to keep up with all the sites to see, notes to take, budding friendships to nurture, delicious Israeli food to eat, archeological lessons to learn, and biblical teachings to soak up. (At times I literally caught myself trying to listen to the tour guide with my left ear and the pastor with my right ear—impossible for my brain.)
Twelve days after we left, we walked in the front door of our Virginia townhome. When morning broke, I went alone up to my loft. The floodgates opened.
I wept in gratitude – for the trip of a lifetime.
I wept in wonderment – for a gorgeous country and the beauty of God's creation.
I wept in reverence – for the deliberate hand of God; the intention behind his ways.
I wept in despair – for all the mornings I've skipped reading Scripture.
I wept in joy – for a new understanding of the living Word.
I wept in sadness – for our fleeting time on this earth.
I wept in gratefulness – for God's everlasting love.
And I wept in sorrow – for Jerusalem, a city that still does not know peace. For a world that's turned it's back on God.
I'll wrap up now, but here's the takeaway: THIS is the greatest book ever written. Read it. Daily. Always.
~~~
"Read and study your bible every day. Find time where you can hole up and commune with God's spirit, and God's word, and God's third greatest gift to man . . . coffee."
-M. Easley, our teaching pastor in Israel