This Book Belongs to You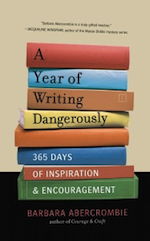 A few months ago, I bought a This Book Belongs To: _____ stamp. It's a wise owl perched next to an open book with a pair of spectacles resting on the pages. I spent hours one afternoon at the Colorado cabin stamping the first page of all my books in the loft. I picked up my pen, poised to write Jenny in the blank space, and . . . paused. I was suddenly overcome with the urge to write You instead. But then I paused again. Was I going to give my books away to anyone who might want, need, or simply come across them? Yes. No. Yes. No. I wish I was a more generous person. I don't want to be clingy and possessive of material goods that moths and rust destroy.* Then again, I appreciate the value of my personal library. I study my books and refer back to them all the time when I work. They're part of my files. Eventually I'll make the call, but for now I have a humongous stack of books that say, This Book Belongs To blank. (*Matthew 6:19)
In other news:
Open Air: I'm a biker. As in cyclist, not Harley-Davidson chick. It happened by accident. I didn't have a car for two weeks, so instead of renting from Enterprise, I went to the bike store, bought a helmet and a lock, and began pedaling EVERYWHERE. It took 40 minutes (the length of my first ride) to get over my fear of cruising inches away from street traffic. Well, sort of. At least once a ride I have the horrible thought of mangled limbs. Anyway, I discovered a whole new culture. When I zip up to a bike rack, another biker will say, "How was your ride?" Or, "Was it a long ride?" Or the person will launch into a story about the last time he or she crashed. I've always wanted a convertible, and wouldn't you know? I've had one all along.
Hot Off the Press: Modern Woman, a magazine published by USA Today, includes my piece on minimally processed foods. On newsstands Oct. 8.
On the Bookshelf:  A Year of Writing Dangerously by Barbara Abercrombie. To officially open my work day, I have been reading one entry each morning from this book. I absolutely love this practice. It's uncanny how often the entry of the day fits my writing struggles. One morning I woke up with a tight chest, worried to death about a certain piece I was drafting. The topic in Barbara's book that day? Anxiety. (And that morning's scripture reading from the Sermon on the Mount was on anxiety, too.) Another day, as I ate breakfast, I mulled over a list of people I could ask to read a few pages for me. When I went to my desk to work, the day's entry was on finding the right readers and choosing your posse carefully.
That's all for now. See you next time. Or as a cyclist would say, "Have a nice ride!"
~~~
"I think that a "real writer" is simply a person who keeps writing."
-Barbara Abercrombie, A Year of Writing Dangerously
3 Responses to This Book Belongs to You