Book of the Month: The Chronology of Water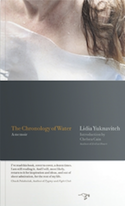 My December book pick is The Chronology of Water by Lidia Yuknavitch. I almost didn't post about it because a number of the passages are troubling. But the writing is so good.
The narrator says, "I want you to hear how it feels to be me inside of a sentence."
And for 310 pages, I did.
Thank you Hawthorne Books & Literary Arts for publishing the work of independent voices. And thank you Lidia for writing.